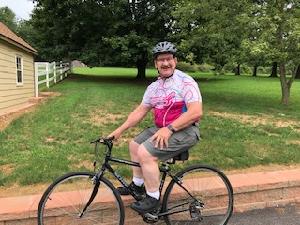 This year, I registered for the Komen Maryland Promise Ride because I want to help by raising funds for local breast health programs and national research.

Support me in my ride by clicking the donate button.

More than 41,000 people in the U.S. are expected to die this year from breast cancer. This is UNACCEPTABLE. Together we work to will fund the science research that will put an end to this debilitating disease forever.
View More
My Personal Web Log
Return to the main discussion page
Final Day to Ride
Got started early and did a 12.5 mile course around Chester County in PA this morning.
It was an enjoyable couple weeks of riding but I'm really looking forward to riding in person with the team next year.
Good luck to everyone, be well, stay safe and thank you for your support.
Max
by Max Kent on Sun, Aug 23, 2020 @ 10:56 AM

Permanent Link No Comments