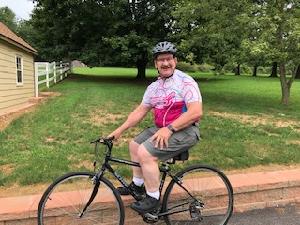 This year, I registered for the Komen Maryland Promise Ride because I want to help by raising funds for local breast health programs and national research.

Support me in my ride by clicking the donate button.

More than 41,000 people in the U.S. are expected to die this year from breast cancer. This is UNACCEPTABLE. Together we work to will fund the science research that will put an end to this debilitating disease forever.
View More
My Personal Web Log
Return to the main discussion page
New Update Saturday 8/22
Greetings:
Getting set-up for the final days. I logged 5.0 miles on the stationary bike on Wednesday morning just to have some miles in the bank incase the weekend turned out to be a wash-out, but today was a great riding day. I was able to put in 15.78 miles this morning and plan to ride again tomorrow.
by Max Kent on Sat, Aug 22, 2020 @ 10:42 AM

Permanent Link No Comments