Due to the ongoing uncertainty surrounding the Covid-19 Pandemic and in consideration of safety and health of their participants, volunteers, and staff, that the 2020 Komen Maryland Promise Ride will be a virtual event held August 15-23. This is the fifth year for the cycling event that annually raises $80,000 for local breast cancer assistance and research. The event was originally planned as a one-day ride with a choice of 10, 35, 67 or 100-mile routes beginning at the Frederick County Fairgrounds
Participants will have the option to log cycling miles for 8 days, instead of completing a set course all in one day. They can cycle a set course or a course of their choosing, or even pedal indoors on a stationary cycle. Supporters will be encouraged to share their cycling journey on social media.
Download cycling bib here.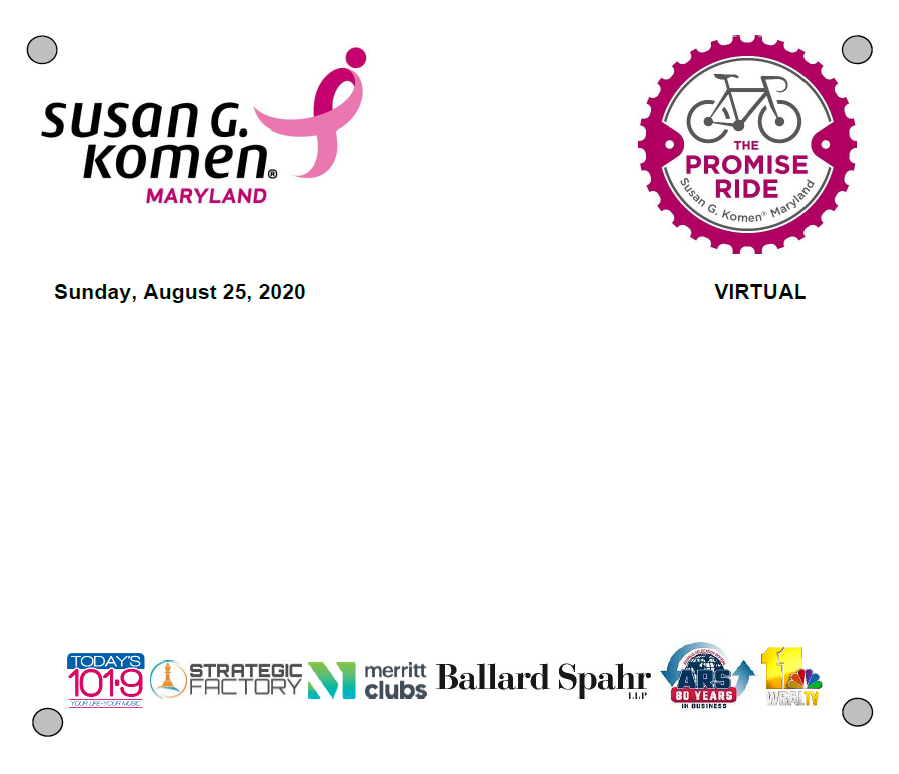 "While we are disappointed that we won't be able to hold the Promise Ride in person this year, the virtual event opens the door to a lot of fun options for our supporters," said Becky Bosstick, Komen Maryland Events Director. "Participants who may be new to cycling will have more days to complete shorter rides and still log 35, 67 or 100 by the end of the week. This also opens up the event to children who may want to log miles and fundraise along with Mom and Dad."
Komen will waive the registration fee, but participants will still be encouraged to raise at least $100. Cyclists will still receive a bib and there will be fundraising rewards for those who raise higher amounts.
"Cycling has taken off during the pandemic and bike shops are reporting record sales," says Bosstick. "We hope everyone will use those new bikes not only to get some outdoor exercise, but to raise funds to help us cure breast cancer."
For more detailed information about the event, visit our FAQ page.
About Komen Maryland:
Susan G. Komen is the world's largest breast cancer organization, funding more breast cancer research than any other nonprofit while providing real-time help to those facing the disease. Komen has set a Bold Goal to reduce the current number of breast cancer deaths by 50 percent in the U.S. by 2026. Komen was founded in 1982 by Nancy G. Brinker, who promised her sister, Susan G. Komen, that she would end the disease that claimed Suzy's life. Komen Maryland is working to better the lives of those facing breast cancer in the local community. Through events like the Race for the Cure®, Komen Maryland has invested nearly $31 million in community breast health programs in the state and has helped contribute to the more than $988 million invested globally in research. For more information, call 410-938-8990 or visit www.komenmd.org.