General Ride Information
UPDATE: DUE TO WEATHER CONCERNS, THE 67-MILE ROUTE IS CANCELED. ALL CYCLISTS ARE WELCOME TO RIDE THE 12 OR 35-MILE ROUTES.
NEW SCHEDULE
7:00 am Registration and packet pick-up, breakfast
8:00 am: Opening ceremony for 35-mile route
8:45 am: Opening ceremony for 12-mile route
9:00 am: 12-mile ride start
11 am- 4 pm: Finish line picnic
3 pm: All routes close
Due to police support schedule, cyclists must begin promptly at the start times for their respective routes.
Download an event info sheet by clicking on the image below: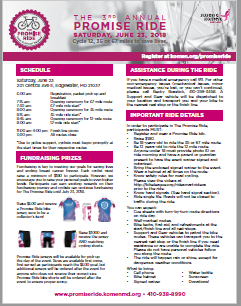 Q. When is the Promise Ride?
A. Saturday, June 23, 2018
Q. Where is the Promise Ride?
A. The start and finish of the Ride will be at South River High School, 201 Central Ave East, Edgewater, MD 21037
Q. How long is the Promise Ride?
A. There are three routes to choose from, a 12-mile route, a 35-mile route and a 67- mile route. All three routes are through beautiful country roads through southern Anne Arundel County.
Q: What time does each route start?
A:
67-mile route: 7:30 am
35-mile route: 8:15 am
12-mile route: 9:00 am
Q. How will I receive my Ride packet?
A. You can pick up your packet on the morning of the Ride, beginning at 6 am at South River High School, 201 Central Ave East, Edgewater, MD 21037. Click here for an adult waiver, which you must turn in on the morning of the Ride. Click here for a minor's waiver. An adult must be present at the at the time of registration.
Q. When will cue sheets/maps be released?
A. We will email all registered cyclists a cue sheet for their designated route (printed copies will be available Race morning) as well as the GPX file 2 weeks prior to the Ride.
Q. How much is the registration fee?
A. January 1-April 30 - $35.00
May 1-June 23 - $50.00
*There is a minimum fundraising requirement of $180 to participate.
Q. Is my registration fee tax-deductible?
A. No, your registration fee helps defray the costs of producing the Ride and is not considered tax-deductible. However, any amount that you choose to donate above the entry fee is tax-deductible.
Q. What is included for those who meet the minimum fundraising requirement ($180)?
A. You will get a Promise Ride number for yourself and your bike, as well as a t-shirt. The Promise Ride offers fully-supported rest stops on each route (with lots of fun surprises at each one) as well as two complimentary meals: a pre-Ride breakfast and post-Ride picnic catered lunch.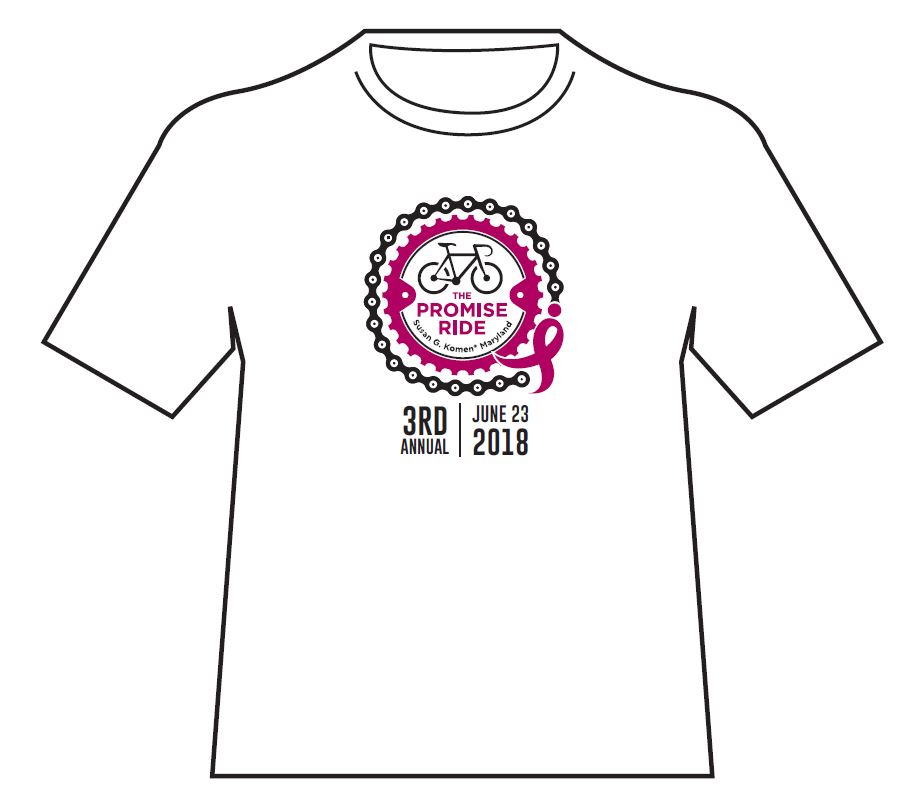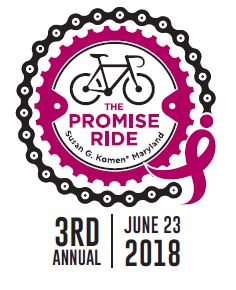 Q. How do I register?
A. You may register online by clicking here.
Q. How old do I have to be to participate in the Promise Ride?
A. To cycle any route, you must be 12 years or older. All 12-17 year-olds must have a parent or guardian present at registration and sign a waiver.
Q. How can I volunteer?
A. The success of the Promise Ride depends heavily on the support we receive from our volunteers in the months leading up to the Ride and on Ride Day. There are many ways you can get involved, for more information, contact Sasha Lea at slea@komenmd.org.
Q. Can my friends and family come cheer me on?
A. Family and friends are welcome to cheer on cyclists from the start/finish line. Only Promise Ride participants and registered volunteers are permitted at the rest stops. Please do not have someone follow you in a vehicle during the Ride. Support and Gear vehicles will be available to transport you to the finish line if you are unable to complete the Ride.
Q. What if it rains?
A. Komen Maryland holds the right to cancel or change the date or location of the Ride in its sole discretion, including in the circumstance of extreme weather. It is likely, however, that the event will happen rain or shine. Please dress accordingly.
Q. Are there hotels nearby that are offering discounts for participants?
A. The Hilton Garden Inn at 305 Harry S. Truman Parkway in Annapolis, MD, is offering a group rate. Click here to register and use code SGKPR for the discounted rate.
Fundraising FAQ
Q. Does the Promise Ride require fundraising?
A. Yes - each participant must raise a minimum of $180 to participate, which represents the 1 in 8 women in the U.S. who will be diagnosed with breast cancer in her lifetime
Q. Does the money raised stay in our community?
A. Yes! The majority of the net income from the Ride stays right here in Maryland to fund vital breast cancer health education and breast cancer screening and treatment programs. The remaining income supports Komen's national research and training grants programs.
Q. Where do I send donations?
A. Donations can be made online or download this form and mail to: 303 International Circle, Ste 390, Hunt Valley, MD 21030. For donations on behalf of an individual participant or a team, please include that information with your check.
Q. Is there a deadline for fundraising?
A. The $180 fundraising minimum must be met by the morning of the Ride, June 23. You can continue to fundraising to meet requirements for incentive rewards (see below) until July 23, 2018.
Q. When will I receive my fundraising incentives?
A. Your fundraising incentives are calculated based on the total fundraising dollars you have collected. Most incentives can be picked up on the day of the event (if fundraising goals are met after the event, incentives will be mailed).
Q. What are some ways I can fundraise for my team/my individual goal?
A. We have plenty of ideas on our Fundraising Tips page!
Team FAQ
Q. How do I form a team?
A. You can form a team or join a team online. For more information, contact Becky Bosstick at 410-938-8990 or bbosstick@komenmd.org.
Q. What are the benefits of a team?
A. Forming or joining a team multiplies the fun you will have on Ride day. You can create a team to celebrate a survivor or honor someone you have lost. You can also create a corporate team and get your entire company involved. To learn more, check out the Team Rewards page.
Q. Do teams have to fundraise?
A. There is no fundraising minimum for teams. Participants on teams must reach their fundraising minimum to be able to participate in the Promise Ride. Individual fundraising counts toward the team total. Setting team fundraising goals can be fun and make it easier to reach your personal goals! Click here to get a list of fundraising events your team can do.
Q. One of my team members registered as an individual when they meant to join my team. How do they correct this?
A. Please contact us at 410-938-8990 or info@komenmd.org to get this corrected.
Q. Can donations made to a team be split or shared among team members?
A. We are unable to split or share donations.